Posted

by

Recently, Green Light Innovations has been doing some self reflection. After meeting with a new buyer for one of our retail partners, we found ourselves with a handful of questions the buyer had asked that we didn't know the answers to. The buyer had asked questions about what our open sign customers care most about, and while we can list a number of things that our business owners care about- customer service, brightness, size, and price- we couldn't quantify or characterize what business owners care MOST about.
With this in mind, we developed a survey. We asked five quick questions about open signs to get to the bottom of what our customers care most about and some answers surprised us and some answers reaffirmed our longstanding values. We sent our survey out to everyone who had registered an open sign warranty with us in the last ten years, and we posted about it on our Facebook page. Then, to sweeten the deal we offered to randomly pick twenty people that took our survey to win a free Digital Business Hours open sign. Here's what we learned:
97% of our survey respondents said that service and quality were very important. We patted ourselves on the back because we know and have always known that quality and service are a top priority for our customers. We stand by our statement that if something goes wrong we will make it right. Green Light Innovations won't make you wait for days to hear back from our customer service team and when you register for your warranty with us, you're covered for three years – "No Questions Asked".
The second most important consideration for business owners when they buy an open sign is brightness. 89% said that the brightness of an open sign was very important. This didn't surprise our team, and neither did the 63% of business owners who said size was very important. You buy an open sign to catch your customer's eye and if it's dim or it's too small that will not be accomplished and you will have wasted your hard earned dollars. Green Light knows that our customers are savvy business owners who make every dollar count, so brightness and size are priorities when choosing an open sign.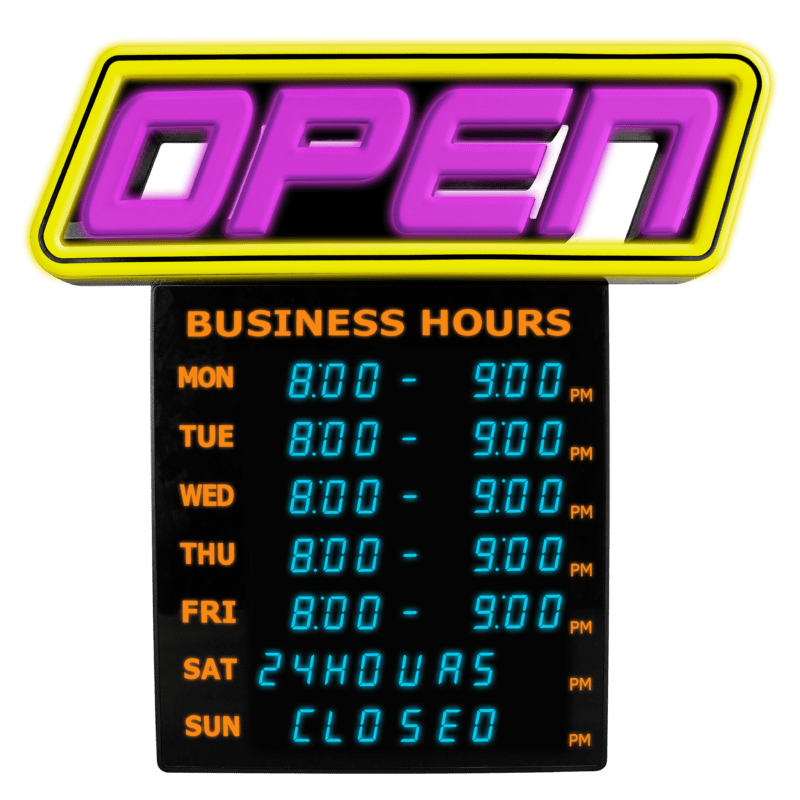 Only 53% of our survey takers said that price was very important. Our customers prioritize service, quality, brightness, and size over price, which means they are going to pay for a top quality sign rather than buy an inexpensive, but poor quality sign. Green Light Innovations always looks to make the best quality, most innovative open signs that will communicate for your business for many years to come. We know that for business owners time is money, and if you have to spend time troubleshooting open sign problems or on the phone with customer service, that's money lost. Green Light does not cut corners and we hold ourselves to an exceptionally high standard of quality.
Finally, Green Light always strives to provide our customers with innovative products, which is why all of our open signs currently feature the ability to match the colors of your open sign to your business. Our open signs come with this ability to change the color with just a click of a button because we know that business owners spend time developing and cultivating their brand and we believe that they should have the ability t
o make their open sign match as well. What we discovered when asking our customers about the ability to purchase a sign with color changing capabilities is that 88% of business owners would pay more for a sign with color changing options. We were thrilled to learn that our customers recognize and appreciate the value in innovation.
We deeply appreciate everyone who took our survey and we want to congratulate the 20 lucky winners of the free Digital Business Hours open sign. Green Light Innovations loves getting customer feedback and we are prepared to not only inform our new buyer of our survey results, but also use this information as we go forward and continue to innovate. We will utilize this information as we work to bring you better, higher quality, and more technologically advanced products in the future.